INTRODUCING mC IO:
FLAT-RATE CONTRACT
REVIEW SERVICE
Finally, an end-to-end solution for contracts
mC IO is designed for growth companies from publicly listed to revolutionary startups. Offering 24-hour turnaround for contracts so you can focus your legal team's time on more high-value work.
Without dedicated and experienced legal capacity to review, negotiate, and manage contracts, risk exposure amplifies as your company scales. mC IO is the modern solution to help you get ahead of contracts—and back to business.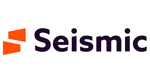 "modCounsel's coverage model turned our small, US-based legal team into a 24-hour global machine. We all know end-of-quarters are a race for attorneys and deal teams, but with modCounsel we can offer around-the-clock sales support. This helps Seismic achieve our revenue goals with a scalable, flexible, and transparent pricing model."
-Celaena Powder, Vice President, Legal at Seismic
Rapid review and feedback
Same-day response when every deal counts
Experience a 5x improvement in your legal contract review process and free up your scarce internal resources for more strategic work. mC IO expedites simple to complex deal types, including MSAs, DPAs, SOWs, NDAs, POs, Supplier Agreements, Order Forms, RFP materials, and more.
Coverage that delivers
Efficiency when resources are tight
modCounsel is fluent in your industry, with deep experience across technology, healthcare, finance, services, and energy. Our team combines years of experience and the best of modern technology to navigate growth demands for all types of relationships, such as B2B, B2C, client, vendor, partner, and strategic alliances.
Save money on risk protection
Spend less on contract review
Achieve savings and risk coverage. Businesses that use mC IO can save 42–68% per review from day 1. With flat-rate pricing, you'll know exactly what to expect; no more month-end surprises for inflated retainer fees or other unanticipated costs.
Negotiations backed by experience
Confidently manage deals and vendor relationships
The modCounsel team has negotiated thousands of contracts and understands how many vendors structure their agreements. With the added power of AI, we know what risks to identify and how effectively to help your business navigate deals and relationships.
Three options for evaluating your contract risk
Choose how you'd like to incorporate mC IO into your business operations with three flexible options to fit any size organization.
Let us identify key risks before you sign
Get started with three free contracts per month with 24-hour turnaround. Your Risk Summary report shows your risk across six categories and a drill-down into 25 unique terms.
This easy visual view allows you to quickly identify areas of risk so you can negotiate better terms.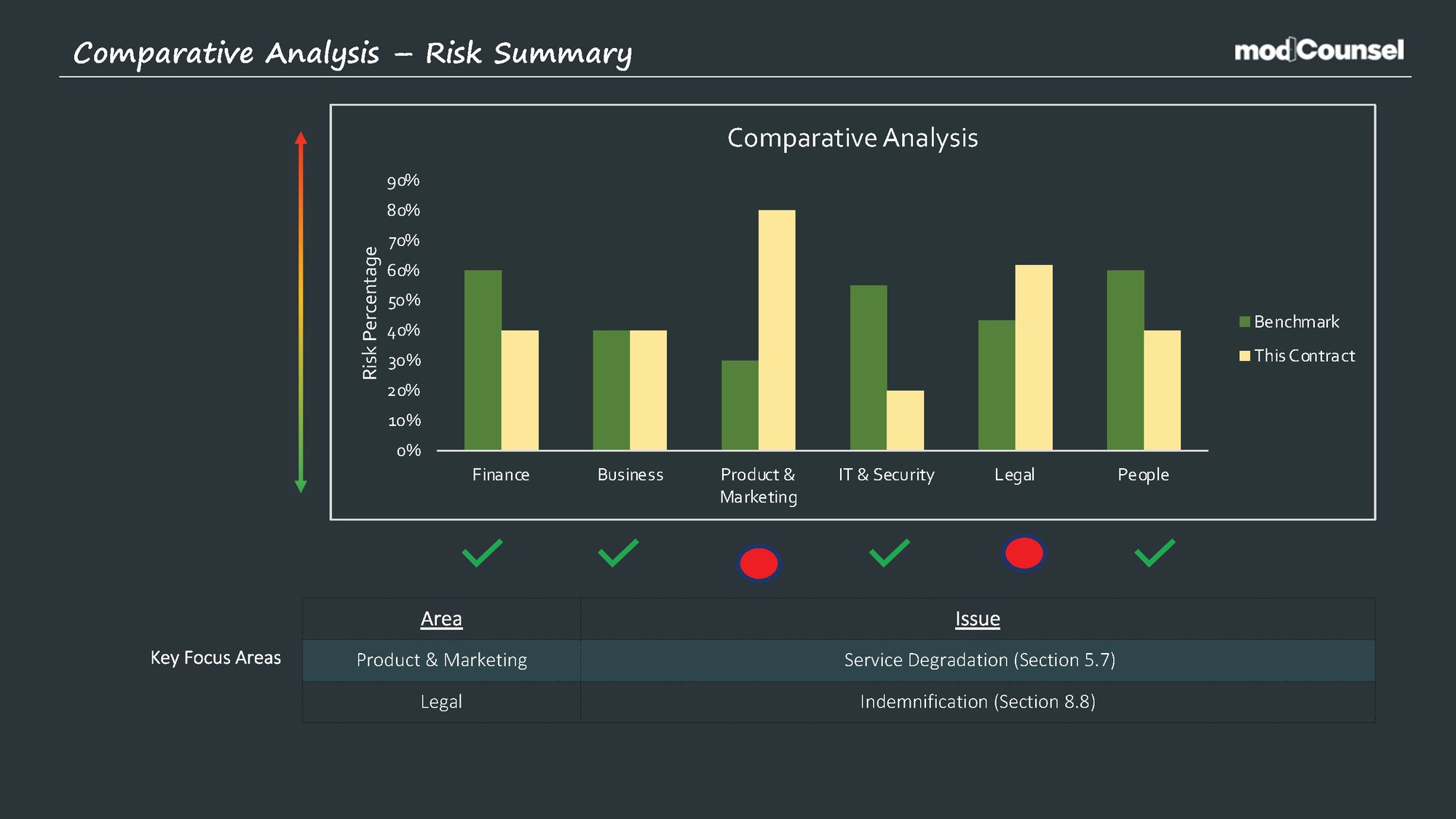 Let us create a custom negotiation guide for you
With all the benefits of SMB, the Growth plan also includes a detailed Negotiations and Approval Guide that's your playbook for negotiations. Never wonder what you should do next, you can apply market standards to your negotiation approach.
With 10 contract reviews to use throughout the year, you have flexibility and protection.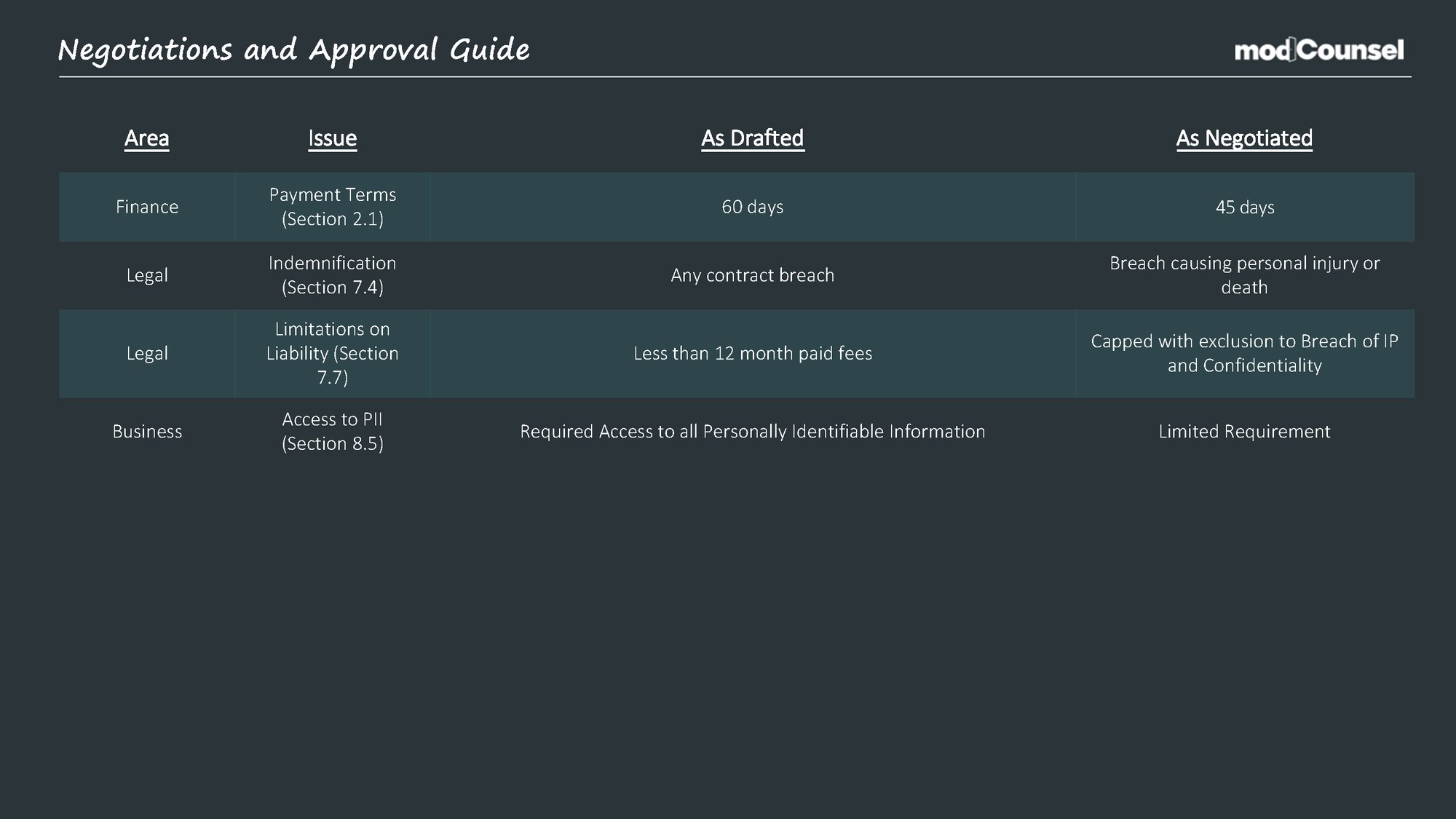 Let us negotiate for you
If you have a higher volume of contracts and want the experts to take over, take advantage of the Concierge plan. With pricing for either 10 contracts per month or 30 per quarter, you'll not only get fast turnaround and risk assessment, but our expert contracts negotiation team will follow through and close out the contract on your behalf.
Your Quarterly Risk Insights Dashboard will also show you everything you need to keep an eye on your business's overall contracts risk and exposure.
Need even more? Let's discuss.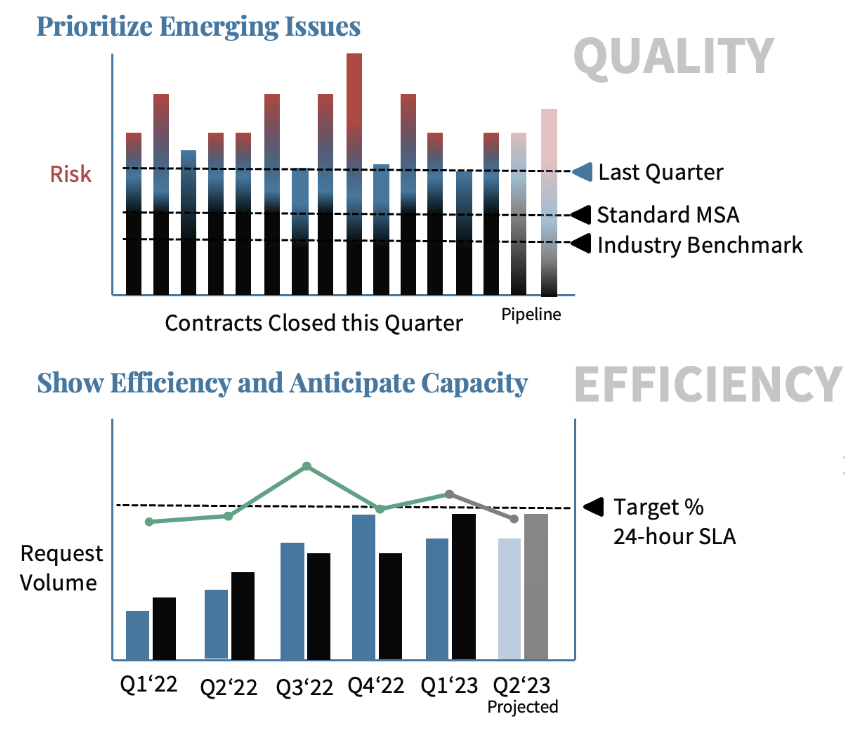 SMB

GROWTH

CONCIERGE

FREE TRIAL



RISK SUMMARY



SAME DAY TURNAROUND



NEGOTIATION & APPROVAL GUIDE

QUARTERLY RISK
INSIGHTS DASHBOARD

END-TO END NEGOTIATION
SERVICES
Ready to get started?
Discover how modCounsel can help you.